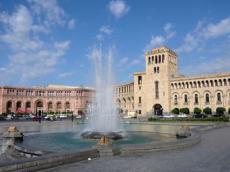 Trend:
Armenia's Republican Party will change its chairman, said the statement of the party, TASS reported.
The decision was made after the meeting of Armenia's ex-President and former Prime Minister Serzh Sargsyan with acting Prime Minister Karen Karapetyan.
Sargsyan, elected by the Parliament as Prime Minister of Armenia on April 17, announced his resignation on April 23 under pressure from mass protests of the opposition all over the country.