Opposition may punish its renegate members of the Central Election Commission who signed final protocol on the election results.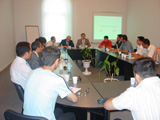 "Vidadi Mahmudlu and I signed the protocols on election results received from constituencies," said Arzukhan Alizade, representative of the National Independence Party of Azerbaijan in the Central Election Commission.
According to his words, the document was of an imperative character: "The main point is that we voted against the decision on recognition of the election results at the session of the CEC on November 23. We still think that irregularities were committed during the elections. Constitutional Court's annulling the results of elections in 6 constituencies is a proof of what we are saying".
As for the head of the NIPA Ali Aliyev calling Alizade traytor Alizade said: "These problems are likely to be solved. I have worked hard for the development of the party. Probably, the party leadership will absolve me for signing this document".
Meanwhile head of the NIPA Ali Aliyev told APA that Arzukhan Alizade has not yet given any information on this issue: "If he really signed the protocol, he became a participant of the crime. Although he is not a party member, however, he bears moral responsibility. This will be valued".
APA