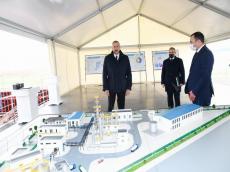 By Azernews
By Vafa Ismayilova
President Ilham Aliyev has hailed Azerbaijan's non-oil sector, saying that development of this industry has created a new reality for the country.
Aliyev made the remarks while attending the groundbreaking ceremony for the Azersulfat LLC sulfuric acid production plant and Glassica CJSC glass container production plant on January 18. The president also inaugurated the Azerfloat CJSC thermoforming sheet glass plant at the Sumgayit Chemical Industry Park.
"The non-oil sector has developed successfully. In all countries of the world, 2020 has been a year of economic recession, and so it was for Azerbaijan. But our decline was only 4.3 percent. In some developed countries, this decline is measured in larger numbers. In our non-oil industry, a growth of 12.5 percent was achieved thanks to such enterprises. Industry, agriculture, the non-oil sector, export opportunities, reduction of the dependence on imports – all these factors have created a new reality today," he said.
Aliyev said that the launch of industrial enterprises in Azerbaijan's Sumqayit city as the event of special importance for the city which used to be a venue of ecological disaster.
"The groundbreaking ceremonies and the launch of these enterprises is of great importance, first of all, for the development of Sumgayit. Sumgayit is not only the second-largest industrial city in Azerbaijan and the South Caucasus now but also a modern industrial centre. At the same time, all enterprises established in Sumgayit in recent years meet the highest environmental standards. This is of special importance for Sumgayit. Because Sumgayit used to be a place of ecological disaster," he said.
He added that Azerbaijan's long-term sustainable development will be ensured.
Aliyev added that by creating industrial enterprises the country resolves its current and future issues.
"Both foreign and local investors should simply have confidence in the future of our country, which has always been the case and still is... Therefore, I am confident that the investment in today's Azerbaijan will come, first of all, in the non-oil sector. Because if we managed to attract these investments in previous years when the conflict was still unresolved, it will be easier to do that today," Aliyev said, stressing that Azerbaijan had achieved needed peace and security.
He described political stability, the unity of the people and the government, peace, geographical location, infrastructure, trained professionals, export markets, good business relations with neighbouring countries as important factors.
"Therefore, a new era has begun in the development of our country. Even though all these factors are in place, we will return to the liberated lands and use the potential of those lands. There is a huge potential – renewable energy, valuable natural resources, gold deposits, copper deposits, rivers, reservoirs, fertile land for agriculture, tourism opportunities. So according to many, these regions will become the driving force of our further development," he added.
Focusing on the country's victory in the Nagorno-Karabakh war, Aliyev expressed confidence that "we will successfully complete this year and build a stronger Azerbaijan".