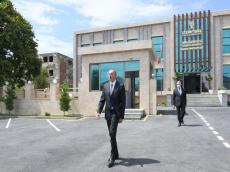 President Ilham Aliyev inaugurated a number of projects in Balakan region that he visited on July 29.
First, he inaugurated a new building of Balakan Children's Art School.
The Balakan Children's Art School was built in accordance with the order ot the President from August 5, 2017, and consists of a three-story building, designed for 320 students. In addition to 45 classrooms, the school has an area of 3232 square meters, a room for storage of musical instruments and a choreography room, sculpture and painting workshops, a sound recording studio and a library. The 177-seat auditorium of the school has all the necessary facilities for holding events. The Children's Art School currently has 288 pupils and 64 teachers.
Furthermore, he inaugurated a new ASAN Balakan Regional Service Center.
President familiarized himself with the conditions created in the center.
It is a four-story center that will serve all citizens of the country without territorial restrictions, as well as about 284,000 citizens registered in the regions.
It was noted that disinfection tunnel installed there is a device that allows users to observe personal hygiene rules and enter any sterile space. The disinfection zone was placed inside a tunnel that was used for remote temperature measurement and data storage.
In addition, it was stated that ultraviolet air purifiers were used in rooms to purify the air from viruses and bacteria by ultraviolet rays. The air coming from the bottom of the unit passes through mechanical filters and enters the ultraviolet chamber. This cell eliminates 99 percent of viruses and bacteria in the air.
The ozone generators installed there is a device that is widely used to destroy various harmful microorganisms, disinfect air and water. Ozone is a more effective and environmentally friendly alternative to traditional chemical disinfectants. Disinfection doors destroyed viruses and bacteria on everyone who passed through them, thanks to ultraviolet rays. The disinfection robot is a special equipment that prevents the spread of different viruses and infections by quickly disinfecting the premises. Ultraviolet air and surface cleaners and ozone generators are effective air purifiers in public buildings and densely populated areas to combat coronavirus.
It was noted that Azerbaijan had increased the e-Government Development Index by 71 points compared to 2018, exceeding the world average by 11 points.
The purpose of the e-Auction System is to increase the availability of participation in auctions, facilitate the auction process and enable unified reporting. The use of the system allows to electronize processes and save resources, ensures transparency, electronic payments and SMS notifications.
Additionally, it was noted that another new project is the information system "Electronic Water Resources Management". This system is a data-based information system designed to improve the efficiency of water use in the country and to improve accounting and management in this area. The system was designed to assess, inventory, model and collect relevant information on water resources and to integrate that information with other relevant systems through the e-Government Information System.
After familiarization with the center, President Ilham Aliyev met with ASAN volunteers, and addressed the meeting.
Later, President attended the even on puting into operation of Balakan Center for Automatic Management and Control of Azerishig OJSC.
Chairman of the Board of Azerishig OJSC Vugar Ahmedov informed the Head of State that the network serves a total of 23,159 subscribers, including 21,353 residents and 1,806 non-residents. In order to improve the power supply to the region, to provide subscribers with stable and quality electricity, the main reconstruction works were carried out on 110/6 kV "Qafqaz" substation in the village of Kateks, built 35/6 kV "Kortala" substation, and 35 kV "Kortala" substation airline was conducted. Some 36 sets of old transformer substations were replaced with modern ones, new overhead and cable lines were laid, and 1872 different voltage supports were installed in the region. Reconstruction works were carried out in 0.4 kV networks consisting of open wires, in 6 villages.
It was noted that in accordance with the Smart Networks concept the Automatic Control and Monitoring Center was established and with the help of special software for the network management at all stages from purchase to consumption, identification and analysis of real-time balance and technological losses, taking preventive measures. There will be a virtual archiving of cargo parameters, provision of technical specifications according to subscribers' requests via electronic card, preparation of documents for connecting consumers to the electricity network. The Centre will also play a special role in ensuring uninterrupted and quality control of high and low voltage networks, monitoring consumption indicators, registering holes and connections in the power grid in real time.
Additionally, it was noted that as a result of measures taken and investments made, losses in the Balaken power network have decreased by 5.2 percent, and 10 million Kilowatt hours of electricity have been saved. The level of collection of useful electricity reached 87 percent.
President Ilham Aliyev familiarized himself with the equipment purchased for public utilities of the city.
During the same visit, president attended the opening of the reconstructed Balakan- Gazbin- Itala highway. The Balakan-Hanifa-Guluzanbin highway was also presented during the event.
Saleh Mammadov, chairman of the State Highway Agency of Azerbaijan, informed President Ilham Aliyev that roads of the third and fourth technical level with length of 29 km have two lanes.
The Balakan-Gazbin-Itala highway built by presidential order connects 10 settlements with a population of 18,000 people. There are 123 road signs and information boards on the road. 8,700 square metres of road lines have been laid and the bridge over the irrigation canal has been overhauled.
President Ilham Aliyev familiarized himself with the work carried out in the framework of the reconstruction project of Balakan-Hanifa-Guluzanbin highway.
It was noted the length of the road connecting 7 settlements with 9,000 people is 25 kilometers. There are 2 traffic lanes at the fourth technical level.
The Head of State was also informed of the work done in the framework of the Gullar-Tulu-Talalar-Sharif-Ajiliqbina-Gaisa highway construction project.
Additionally, President visited Honey Fruit Orchard in Balakan region.
The Head of State was informed about the farm.
It was noted that 95,000 apple seedlings and 3,000 pears of 4 species were planted at the Honey Fruit Orchard established in 2012 in the villages of Catech and Beretbina. In addition, agro-technical and agrochemical services are provided in the gardens, where 6500 plums and 2000 nectarine seedlings of 5 species are planted on the area of 15 hectares in Beretbina village, and a modern drip irrigation system is installed in these gardens.
It was reported that the construction of a refrigerated warehouse with a capacity of 1300 tons for storing fruit in special conditions began in early 2020 and is planned to be put into operation in September. A fish breeding lake was created on 6 hectares of the garden, and 3 species of fish are fed here.
It was noted that 80 people work on the farm, and more than 200 residents are involved in seasonal work during the harvest.
It should be noted that the farm produced 1200 tons of fruit last year, 1400 tons this year and more than 2000 tons in 2023-2024.