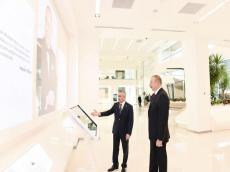 By  Trend
President of the Republic of Azerbaijan Ilham Aliyev has attended the inauguration of the newly built Youth Center in Bakikhanov settlement, Sabunchu district, Baku.
The Youth Center is located in the renovated recreation park. The renovation of the 2.3-hectare park started in 2014.
A statue to national leader Heydar Aliyev was erected in front of the three-story Youth Center as part of the renovation work.
The president laid flowers at the statue of national leader Heydar Aliyev.
President Aliyev then cut the ribbon symbolizing the opening of the Youth Center, and viewed conditions created there.