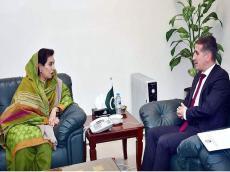 By Azernews
By Narmina Mammadova
Further development of friendship and cooperation between Azerbaijan and Pakistan was highlighted, as Azerbaijani Ambassador to Pakistan Ali Alizade held a meeting with Federal Minister for Inter Provincial Coordination of Pakistan Fahmida Mirza on December 12.
It was noted that Azerbaijan and Pakistan have always supported each other within international and regional organizations.
Mirza stressed the importance of further development of friendship and cooperation between the two countries.
The minister also said that the Ministry for Inter Provincial Cooperation of Pakistan is responsible for communication, especially in the field of ??youth and sports, and added that Pakistan is more interested in expansion of cooperation in this sphere.
She added that the holding of such magnificent international sports competitions by Azerbaijan as the first European Games, the Islamic Solidarity Games deserve positive assessment.
In turn, Azerbaijani ambassador to Pakistan said that the consequences of the Armenia-Azerbaijan Nagorno-Karabakh conflict, Armenia's aggressive policy and the continuation of the occupation of 20 percent of Azerbaijani territories are regrettable.
The sides also stressed special efforts of the leaders of both countries in the development of the Azerbaijan-Pakistan relations and expressed gratification with the effective cooperation between the two countries and the high level of ties.
The importance of improving the legal framework and increasing of the number of ongoing projects in the field of education was stressed during the meeting.
There are friendly and warm relations between Azerbaijan and Pakistan for many years. These relationships continue to evolve in various fields, especially energy.
Pakistan signed government-to-government deals with Azerbaijan in various areas including supply of electricity, crude and refined oil products, liquefied petroleum gas (LPG) and liquefied natural gas (LNG) on June 20, 2016.
The agreements were set to alllow the two countries to sign multibillion-dollar arrangements for trading in oil and gas without going through the bidding process.
Pakistan has long been an importer of crude and refined oil products from Middle Eastern countries and is now exploring opportunities of importing LNG from other countries including Italy, France, China and Malaysia.
According to a protocol signed between Pakistan and Azerbaijan, they have agreed to explore possibilities of cooperation in the field of energy.
Authorities in Azerbaijan, Pakistan's Alternative Energy Development Board and the Ministry of Water and Power are due to hold discussions on the participation of Azerbaijan companies in the development of small hydroelectric power, wind, solar and bioenergy projects.
Countries have agreed to cooperate in promoting trade in crude, refined oil products and LPG as well as joint development of new facilities for their import.
They have also agreed on conducting joint research for setting up a laboratory and undertaking production tests in the field of oil and gas.
Furthermore, the sides will share scientific and technological developments in the areas of oil and gas exploration and production, while also committing to training of professionals working in the petroleum industry.
Both parties have decided to jointly evaluate the possibility and support of relevant sides in oil and gas exploration and development projects in Azerbaijan and Pakistan. They have also decided to constitute a joint working group for the exploration and production of hydrocarbon and to explore opportunities in the two countries.