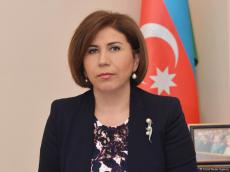 By Azernews
By Abdul Kerimkhanov
Relations with Turkey in all spheres are of great importance for Azerbaijan, Deputy Chairman of the Azerbaijani Parliament Bahar Muradova said at a meeting with representatives of the Platform for Women of the Turkic World (TÜRKAP) on November 29.
Muradova said that relations between the parliaments of Turkey and Azerbaijan are at a high level, and relations between the two fraternal countries are an example for the whole world.
The Vice Speaker noted that the organization faces such tasks as conducting general political and cultural events, expanding the boundaries of women's activities, expanding the dialogue and historical ties of kinship between women in the Turkic world.
The head of the TÜRKAP delegation, the MP of the Grand National Assembly of Turkey, Mihrimah Belma Satyr noted that they feel at home in Azerbaijan.
Satyr told about the future activities of the organization, established in Istanbul in September, about the steps taken towards the goal. The deputy also said that an international forum of the organization will be held in Istanbul in December.
Chairman of the Milli Majlis Committee on Family, Women and Children Agiya Nakhchivanly, MPs Sahiba Gafarova, Sevinj Fataliyeva, Kamilya Aliyeva, Zhalya Aliyeva, member of the Turkish parliament Rasmiya Chanaltai, auditor of the Accounts Chamber of Azerbaijan Mehriban Alyshanova, founder of the project Zait Nakhmatov?, philologist Sharaf Jafarli and others noted that the organization's activities are very important for the Turkic world, and added that the upcoming projects will contribute to the development of women and progressive society.
Relations between Turkey and Azerbaijan are developing in a rising way. This development shows itself in the economic relations established with the fraternal country.
Strengthening and expanding relations with Turkey, which is a reliable strategic partner of Azerbaijan in modern geopolitical conditions, is an important part of the country's foreign policy. Mutual visits of heads of state and government officials of both countries, as well as heads of relevant political, economic, trade, science, education, culture and other spheres have played an important role in the development of bilateral cooperation. 
Turkey and Azerbaijan are active participants in the process of regional cooperation. Both countries effectively use their economic and energy capabilities, as well as the geopolitical position to expand bilateral and regional cooperation.
Also, the two fraternal countries have gained good experience in the implementation of large-scale projects of international importance, which are well known in the region and the world. These are Baku-Tbilisi-Ceyhan oil pipeline, the Baku-Tbilisi-Erzurum gas pipeline, TANAP, the Southern Gas Corridor and the Baku-Tbilisi-Kars railway.
All projects initiated by Azerbaijan and Turkey are implemented successfully and serve further development and well-being of two nations.