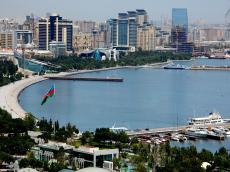 By  Trend
CNN has published an article dedicated to Yanar Dag, a natural gas fire which blazes continuously on a hillside on the Absheron Peninsula on the Caspian Sea near Baku, the capital of Azerbaijan.
"This fire has burned 4,000 years and never stopped," says Rahila Aliyeva. "Even the rain coming here, snow, wind -- it never stops burning."
Ahead, tall flames dance restlessly across a 10-meter stretch of hillside, making a hot day even hotter.
This is Yanar Dag -- meaning "burning mountainside" -- on Azerbaijan's Absheron Peninsula, where Rahila works as a tour guide, says the article.
"Yanar Dag is one of several spontaneously occurring fires to have fascinated and frightened travelers to Azerbaijan over the millennia. Venetian explorer Marco Polo wrote of the mysterious phenomena when he passed through the country in the 13th century. Other Silk Road merchants brought news of the flames as they would travel to other lands. It's why the country earned the moniker the "land of fire"," said CNN.
Today, most visitors who arrive at the no-frills Yanar Dag visitors' center come for the spectacle rather than religious fulfillment, said the article.
The experience is most impressive at night, or in winter. When snow falls, the flakes dissolve in the air without ever touching the ground, says Rahila.
Unlike mud volcanoes, the Yanar Dag flame burns fairly steadily, as it involves a steady seep of gas from the subsurface.
The reason offered for the Yanar Dag fires is the result of hydrocarbon gases emanating from below the earth's surface. Apart from Yanar Dag, the most famous site of such a fire is the Fire Temple near Baku, off the Greater Caucasus, which is a religious site known as ateshgahs, meaning temples of fire.