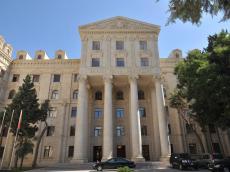 By Azernews
By Abdul Kerimkhanov
Separatists of Nagorno-Karabakh region cannot calm down and continue to invite foreign public and political figures to visit the occupied lands of Azerbaijan.
Following the mayor of the city of Saint-Etienne to Nagorno-Karabakh without the consent of Baku, another less pooular MP made an illegal trip to the occupied territories.
Belgian parliamentarian Jean-Jacques Flau visited occupied Karabakh on October 30.
He met with the head of the separatist regime of Karabakh, Bako Sahakyan. The meeting was attended by clown "foreign minister" Masis Mailyan, as well as an entrepreneur, a millionaire and the head of the European Federation of Europe for Justice and Democracy lobbyist group, led by Gaspar Karapetyan and others. Karapetyan, in order to propagate the separatist regime, every time with its ridiculous attempts to attract sensible European politicians to visit the occupied territories looks indeed reckless.
There are no reasons for surprise. The so-called "Karabakh freedom fighters" surrounded themselves with corrupt European parliamentarians, for whom honor and dignity are concepts that are found only in the pages of the works of great storytellers.
Azerbaijani Foreign Ministry studies the issue of illegal visit of members of the Belgian parliament to the occupied territories, said in the foreign office on October 31.
"Currently, the Azerbaijani Foreign Ministry is studying this issue, after which it will be decided to include their names in the list of undesirable persons because of the illegal visit," the ministry concluded.
Commenting on the visit of the Belgian MP Jean-Jacques Flau to Nagorno-Karabakh, Spokesperson of Azerbaijan's Ministry of Foreign Affairs Leyla Abdullayeva said that a decision would be made to include the name of Belgian MP Jean-Jacques Flau in the list of undesirable persons because of the illegal trip to the occupied territories of Azerbaijan.
The tireless efforts of people like Karapetyan are only a reason for the majority of countries to re-sound that they do not recognize the so-called "Nagorno-Karabakh Republic" and that Armenia is a country aggressor.
The conflict between the two South Caucasus countries began in 1988 when Armenia made territorial claims against Azerbaijan. As a result of the ensuing war, in 1992 Armenian armed forces occupied 20 percent of Azerbaijan, including the Nagorno-Karabakh region and seven surrounding districts.
As a result of Armenia's armed invasion into Azerbaijan's legal territory, the two neighboring countries have remained locked in a bitter territorial dispute over the Nagorno-Karabakh region, which Armenia-backed separatists seized from Azerbaijan in a bloody war in the early 1990s.
The 1994 ceasefire agreement was followed by peace negotiations. Armenia has not yet implemented four UN Security Council resolutions on withdrawal of its armed forces from the Nagorno-Karabakh and the surrounding districts.
Despite Baku's best efforts, peace in the occupied lands remains a mirage in the distance as Armenia refuses to comply with international law.