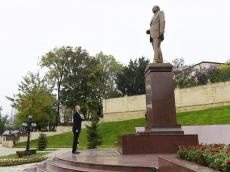 By  Trend
President of the Republic of Azerbaijan Ilham Aliyev has arrived in Lerik.
The head of state laid flowers at a statue of national leader Heydar Aliyev in the center of the city of Lerik.
Head of Lerik Executive Authority Rovshan Baghirov informed President Ilham Aliyev of the socio-economic projects implemented in the city recently.