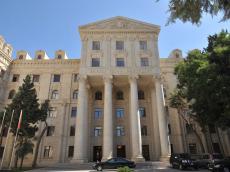 By  Trend
Azerbaijan will raise an issue before the Russian Foreign Ministry about the initiative of the Armenian prime minister's wife Anna Hakobyan to organize an illegal visit of Russia's women to Azerbaijan's occupied territories, Leyla Abdullayeva, spokesperson of the Azerbaijani Foreign Ministry, told Trend Oct. 5.
She was commenting on Hakobyan's campaign "Women for Peace" and in this context the intention of a group of women from Russia to visit the occupied Nagorno-Karabakh region of Azerbaijan.
"As a woman and mother, I can understand Hakobyan's campaign in terms of humanitarian principles," Abdullayeva said. "The main purpose of this campaign is allegedly to prevent the deaths of young soldiers, innocent people. Then it is necessary to thoroughly approach this problem and answer the question "What are the soldiers of Armenia doing in the territory of Azerbaijan?"
"Hakobyan incorrectly chose targets for her humanitarian mission, because in order to prevent the deaths of young people, she must first of all start from the society Armenia, to urge Armenia to stop occupation of Azerbaijani lands and call on Armenian women and mothers to refrain from sending their children to the occupied territories of Azerbaijan," Abdullayeva noted.
It is obvious that this campaign in its current form, especially in anticipation of the election, is intended for the internal audience of Armenia, she said.
"However, it should be taken into account that such campaigns, primarily attempts under the guise of a "humanitarian mission" to motivate a group of women from Russia to visit the occupied territories of Azerbaijan, aren't consistent with the mandate of Russia as co-chair of the OSCE Minsk Group, don't serve to the settlement of the Armenia-Azerbaijan Nagorno-Karabakh conflict and don't correspond to the spirit of the conversation between Azerbaijani President Ilham Aliyev and Prime Minister of Armenia Nikol Pashinyan in Dushanbe. This issue will be raised before the Russian Foreign Ministry by the Azerbaijani Embassy in Moscow."
The conflict between the two South Caucasus countries began in 1988 when Armenia made territorial claims against Azerbaijan. As a result of the ensuing war, in 1992 Armenian armed forces occupied 20 percent of Azerbaijan, including the Nagorno-Karabakh region and seven surrounding districts.
The 1994 ceasefire agreement was followed by peace negotiations. Armenia has not yet implemented four UN Security Council resolutions on withdrawal of its armed forces from the Nagorno-Karabakh and the surrounding districts.