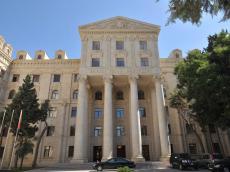 By  Trend
Azerbaijani Foreign Ministry has expressed condolences over the earthquake in Indonesia's Lombok Island.
The condolences have been published on the official Twitter page of the Azerbaijani Foreign Ministry.
"We are deeply saddened by the news of Lombok earthquake," the ministry tweeted. "We express our deepest condolences to the bereaved families and the whole people of Indonesia and wish the injured the soonest recovery."
According to a message received from the Azerbaijani Embassy in Indonesia, there are no citizens of Azerbaijan among the dead and injured in the earthquake, spokesman for the Azerbaijani Foreign Ministry Hikmet Hajiyev said.