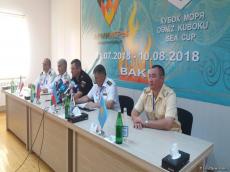 By Azernews
By Rashid Shirinov
A press conference was held at the headquarters of the Azerbaijani Naval Forces on July 31 in connection with the beginning of the Sea Cup-2018 international contest, which will be held in Baku.
Heads of delegations of the participating countries, members of the judicial commission, and local and foreign journalists took part in the press conference.
It was noted that 28 competitions will be held in Azerbaijan, Belarus, Kazakhstan, China, Iran and Russia from July 28 to August 11 within the International Army Games-2018.
Meanwhile, the Azerbaijani tank crew was among the winners on the third day of the Tank Biathlon contest being held in Russia.
The Mongolian crew won the first of the races, finishing all the tasks in 25 minutes and 10 seconds; the Chinese crew won by finishing in 20 minutes and 57 seconds; while the Azerbaijani team finished its tasks in 23 minutes and 27 seconds, thus leaving behind its competitors ­– the crews from South Africa, Zimbabwe and India.
In addition to the Sea Cup and Tank Biathlon contests, the Azerbaijani servicemen participate in the competitions Field Kitchen being held in Russia, Masters of Artillery Fire in Kazakhstan and Sniper Frontier in Belarus.
Moreover, representatives of the Azerbaijani Armed Forces observe the Depth and Army Scout Masters competitions, which are held in Iran and Russia respectively.