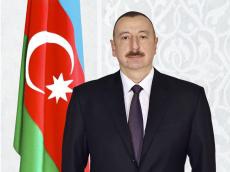 By  Trend
Azerbaijani President Ilham Aliyev has sent a congratulatory letter to US President Donald Trump.
"Dear Mr President, on behalf of the people of Azerbaijan and on my own behalf, I extend my sincere congratulations to you and through you to all the people of your country on the occasion of the national holiday of the US, Independence Day," Ilham Aliyev said in his letter.
"The Republic of Azerbaijan and the United States of America are bound together by the ties of friendship and partnership. Our countries enjoy close and fruitful cooperation in addressing regional challenges and in combating terrorism, as well as in security issues and in economic area."
"Our energy cooperation is of particular importance," Ilham Aliyev said. "We commend the United States for supporting our oil and gas projects that contribute to diversification of energy sources and transportation. The Southern Gas Corridor, which we recently launched, is a significant contribution to Europe's energy security."
"However, the Nagorno-Karabakh conflict, which is our country`s most painful problem, has not yet been settled," the Azerbaijani president noted. "We are looking forward to the day when our occupied lands would be liberated and our refugees and internally displaced persons would return to their homelands. We therefore pin great hopes on the efforts of the United States, as a co-chair of the OSCE Minsk Group, and on your efforts personally, Mr President, towards ensuring a peaceful and fair settlement of the conflict in accordance with the norms of international law, within the territorial integrity of Azerbaijan."
"On this remarkable day, I extend my best regards to you, wish you the best of health, success in your activities, and the friendly people of the United States everlasting peace and prosperity," Ilham Aliyev said.