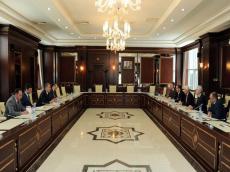 By Azernews
By Rashid Shirinov
There are positive dynamics in the development of relations between Azerbaijan and Algeria, First Deputy Chairman of the Azerbaijani Parliament Ziyafat Asgarov said on June 21.
He made the remarks at a meeting in the Parliament with the visiting Algerian delegation. Asgarov noted that Azerbaijan is interested in deepening these relations.
"Our countries cooperate well within international organizations. The visit of the Algerian delegation to Azerbaijan is a great initiative to deepen relations between the states," he said.
Asgarov also touched upon the Armenia-Azerbaijan Nagorno-Karabakh conflict and noted that today there are more than 1.2 million refugees and internally displaced persons in Azerbaijan.
"Algeria has always defended the just cause of Azerbaijan within international organizations, and we want it to further increase these efforts," the first deputy chairman added.
Algeria's Justice Minister Tayeb Louh, in turn, noted that relations between the two countries are developing.
"With a view to develop bilateral relations between the justice ministries of the two countries, a Memorandum of understanding on cooperation was signed. And today we signed the second agreement," he said.
Louha added that the leaders of both countries pay great attention to the development of relations, and each side is interested in the development of inter-parliamentary ties.
"I will propose to create Azerbaijan-Algeria interparliamentary friendship group. This will contribute to building links between the legislative bodies of the two countries," the minister added.
Algeria recognized Azerbaijan's independence on December 20, 1991. Diplomatic relations between the two countries were established on April 22, 1994.
Currently, Azerbaijan-Algeria relations are successfully developing, and both countries cooperate effectively within a variety of international organizations. There are good opportunities for development of bilateral relationship in a number of spheres.