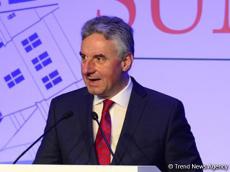 By Trend:
Jan Zahradil, president of the Alliance of Conservatives and Reformists in Europe (ACRE), said that none of the members of his group intends to visit Nagorno-Karabakh illegally, and he personally won't do it, either.
He was speaking at the ACRE Baku Summit June 9.
Zahradil, who is vice-president of the European Parliament's Committee on International Trade (INTA) and an MEP, noted that this is a very sensitive issue.
He added that he understands that the government of Azerbaijan doesn't welcome some MEPs' visiting Nagorno-Karabakh without the permission of the Azerbaijani side and calls these actions illegal.
The conflict between the two South Caucasus countries began in 1988 when Armenia made territorial claims against Azerbaijan. As a result of the ensuing war, in 1992 Armenian armed forces occupied 20 percent of Azerbaijan, including the Nagorno-Karabakh region and seven surrounding districts.
The 1994 ceasefire agreement was followed by peace negotiations. Armenia has not yet implemented four UN Security Council resolutions on withdrawal of its armed forces from the Nagorno-Karabakh and the surrounding districts.