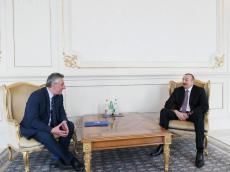 Trend:
Azerbaijani President Ilham Aliyev has received Jan Zahradil, president of the Alliance of Conservatives and Reformists in Europe (ACRE), vice-president of the European Parliament's Committee on International Trade (INTA).
Ilham Aliyev expressed satisfaction with Jan Zahradil's participation at the ACRE Baku Summit, to be held June 9, and highly appreciated the organization of this important event in the capital of Azerbaijan.
Zahradil said that he arrived in Azerbaijan as ACRE president, as well as vice-president of the INTA and an MEP. He noted that the alliance led by him successfully cooperates with Azerbaijan.
Touching upon bilateral relations between the Czech Republic and Azerbaijan, the guest said these relations are successfully developing. He underlined the importance of cooperation of the two countries at the level of strategic partnership. Zahradil expressed satisfaction with the contribution he made to the development of ties between Europe and Azerbaijan.
Noting the high level of cooperation between Azerbaijan and the European Commission, Ilham Aliyev stressed the importance of the adoption and signing of agreements and declarations on strategic partnership with nine countries, including the Czech Republic.
President Aliyev expressed confidence that the event to be held June 9 in Baku will create a good opportunity for the guests arriving in the capital to get familiarized with Azerbaijan closer.