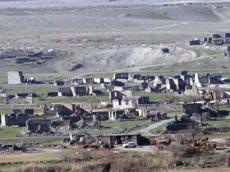 Trend:
Today, Nagorno-Karabakh occupied by Armenia is a territory that does not have a developed infrastructure, modern roads, international contacts and prospects for its residents, says a report broadcast by 112 Ukraine TV channel.
It is noted in the report that Armenians residing in Nagorno-Karabakh cannot visit other countries except Armenia, and local children are deprived of access to international educational programs.
"In one of the cities in Nagorno-Karabakh – Shusha – there are still reminders of the armed conflict of 1994: there are houses destroyed by shells everywhere. There are few opportunities for trade and education development in Nagorno-Karabakh," the TV channel's report said.
"The local sports, in particular football, are also experiencing difficulties because of the unrecognized status. The local football team is deprived of the opportunity to hold international games and take part in official tournaments. Despite repeated requests, an official permission for membership in football organizations was not provided to Karabakh," notes the report.
It is reported that the players are training in a stadium, but the road leading to that stadium has no asphalt pavement, the seats for the audience are rusty, and the athletes get to the facility in old cars and complain about low wages. At the same time, players are forced to have another job, because it is impossible to survive only on player's salary.
The conflict between the two South Caucasus countries began in 1988 when Armenia made territorial claims against Azerbaijan. As a result of the ensuing war, in 1992 Armenian armed forces occupied 20 percent of Azerbaijan, including the Nagorno-Karabakh region and seven surrounding districts.
The 1994 ceasefire agreement was followed by peace negotiations. Armenia has not yet implemented four UN Security Council resolutions on withdrawal of its armed forces from the Nagorno-Karabakh and the surrounding districts.