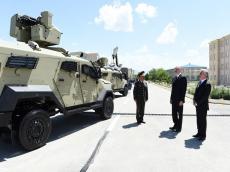 By  Trend
President of Azerbaijan, Supreme Commander in Chief Ilham Aliyev has viewed the conditions created at the Combined Army Unit's training and educational center.
Deputy Defense Minister of Azerbaijan, Commander of the Combined Arms Army Karam Mustafayev reported to President Aliyev.
The newly established military unit features dormitories, military and housing complex, training and educational center, headquarters, hospital, parade ground, and sports campus. The three-storey building occupies a total area of 7,500 square meters.
President Aliyev also opened the newly built military hospital here. The head of state cut the ribbon symbolizing the opening of the hospital.
Supplied with the advanced medical equipment, the three-storey new hospital includes polyclinic and reception, therapy, surgery, anesthesiology and intensive therapy, logistics departments and administrative division.
All necessary conditions were created for the military personnel at the 60-bed hospital. The laboratory of the hospital is supplied with the state-of-the-art equipment.
The head of state then familiarized himself with the newly delivered military equipment.