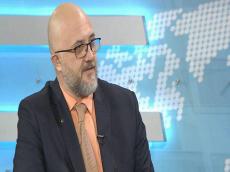 By Azernews
By Rashid Shirinov
Although more than two decades have passed since the occupation of Azerbaijan's Nagorno-Karabakh and seven surrounding regions by the Armenian troops, the conflict still remains unresolved due to Yerevan's unconstructive position on the issue.
The current leader of Armenia – the newly elected Prime Minister Nikol Pashinyan – also continues the policy of his predecessors. During the week of his premiership, he has already made provocative statements both in Yerevan and in the occupied lands of Azerbaijan. In particular, Pashinyan said that the so-called "Nagorno-Karabakh Republic" should be a party to the negotiations on the Nagorno-Karabakh conflict.
"It is obvious that this is an unacceptable condition for Azerbaijan and Pashinyan deliberately increases the tension," Russian political analyst and expert on international issues Evgeny Mikhailov told Azernews in this regard on May 14.
The expert noted that Pashinyan's statements regarding the settlement of the conflict raise eyebrows.
"Unfortunately, his recent statements do not inspire confidence in the peaceful settlement of the Nagorno-Karabakh conflict," Mikhailov mentioned.
The political analyst also touched upon the future of Armenia with Pashinyan.
"I can confidently say that rather than improving the life of ordinary Armenians, his coming to power will, on the contrary, lead Armenia to the total collapse of the imaginary independence and statehood that have existed for the last 26 years," Mikhailov emphasized.
As for Pashinyan's assurances that Armenia will remain committed to the strategic partnership with Russia, the expert believes that this is an attempt to deceive the political establishment of Russia in order to attract greater economic support.
"It is obvious that Pashinyan is a protege of the West and he will do everything to please the main overseers. This may indicate that in the end Yerevan may leave the strategic alliance with Moscow at the earliest opportunity," Mikhailov stressed.
This situation is into the hands of Azerbaijan, which needs only a few days to return the occupied territories provided that no other country prevents it, the political analyst added.
Armenia broke out a lengthy war against Azerbaijan by laying territorial claims on the country. Since a war in the early 1990s, Armenian armed forces have occupied 20 percent of Azerbaijan's territory, including Nagorno-Karabakh and seven surrounding regions. More than 20,000 Azerbaijanis were killed and over 1 million were displaced as a result of the large-scale hostilities.
To this day, Armenia has not implemented four UN Security Council resolutions on withdrawal of its armed forces from the Nagorno-Karabakh and surrounding regions.