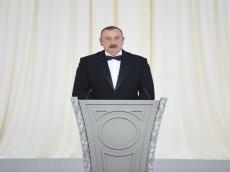 By  Trend
The Azerbaijani flag will be raised in all the occupied territories, including Shusha and Khankendi, said Azerbaijan's President Ilham Aliyev.
He made the remarks addressing the solemn ceremony to mark the 95th birth anniversary of national leader Heydar Aliyev.
The head of state noted that Azerbaijan's principled position on the Armenia-Azerbaijan Nagorno-Karabakh conflict remains unchanged.
"In 2003-2018, over 15 years, many international organizations, the UN General Assembly, the Non-Aligned Movement, the Council of Europe, the European Parliament, the Organization of Islamic Cooperation and other organizations adopted resolutions and decisions reflecting our position, the justice in connection with this conflict. The Armenia-Azerbaijan Nagorno-Karabakh conflict should be resolved only on the basis of norms and principles of international law, the territorial integrity of Azerbaijan must be fully restored, four resolutions of the UN Security Council must be implemented. These resolutions clearly indicate that the occupying forces must unconditionally leave the occupied lands. There is no other way to resolve the conflict," the president said.
Ilham Aliyev stressed that the territorial integrity of Azerbaijan is not the subject of negotiations, has never been and never will be.
"The Azerbaijani people and the Azerbaijani state will never allow a second Armenian state to be created on Azerbaijani soil. If someone thinks differently, I believe that he vainly lives in illusions. The territorial integrity of Azerbaijan should be ensured completely and unconditionally. Justice and international law require this. Nagorno-Karabakh is an integral part of Azerbaijan. This is evidenced by history and culture, international law says this. The so-called "referendum" held in Nagorno-Karabakh was not recognized by any country, or any international organization. This once again shows that the international community, all countries recognize Nagorno-Karabakh as an integral part of Azerbaijan. We will continue to strengthen our principled position. Azerbaijan has ample opportunities both in the international arena and in the region. Without our participation, no project can be implemented in the region. The sooner this is understood in Armenia, the sooner the conflict will be resolved and peace will be ensured in our region. We, at the same time, do a lot of work in the world in connection with the Khojaly genocide. Unprecedented brutality, the Khojaly genocide, committed by Armenians, has been recognized as genocide by more than 10 countries in recent years, and this process will continue. We have built a strong army. Leading rating agencies that determine the strength of the army, see the Azerbaijani army among the 50 strong armies. We know this and our military power is growing day by day. Two years ago, the Azerbaijani army liberated a part of the Agdara, Fizuli, Jabrayil districts from the occupants and the flag of Azerbaijan flutters on these lands, on our native lands today. I am confident that the day will come and the Azerbaijani flag will be raised on all territories today still under the occupation, including in Shusha and Khankendi," Ilham Aliyev said.