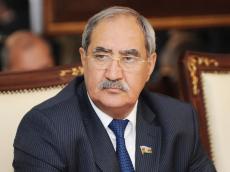 Trend:
Azerbaijani MP Fazail Aghamali has told Trend that he was expecting the OSCE Office for Democratic Institutions and Human Rights (ODIHR) to withdraw from the anti-Azerbaijan traditions that it has demonstrated so far, to give the true assessment of the presidential election in Azerbaijan, but, unfortunately, that has not happened, and they demonstrated biased position towards Azerbaijan.
Aghamali was commenting on the latest statement by the OSCE/ODIHR observation mission made at a press conference dedicated to the presidential election in Azerbaijan.
The MP noted that the OSCE/ODIHR opinion on the election is not objective. He thinks that this opinion doesn't reflect the will of the Azerbaijani people, who participated in a democratic election.
"I think their opinion is biased. Why do they give additional arguments to forces that do not love Azerbaijan?" he added.
Noting that he visited several polling stations to observe the election process, Aghamali added that in fact the presidential election was held democratically, transparently and fairly in Azerbaijan.
Therefore, negative views by any organization about the election process can be considered as biased, added the MP.
During a press conference held April 12, the OSCE/ODIHR observation mission made preliminary conclusions on the presidential election in Azerbaijan, voicing opinions not reflecting the reality observed at the election.
Azerbaijan held a presidential election on April 11. The incumbent head of state, Chairman of the New Azerbaijan Party Ilham Aliyev garnered over 86 percent of votes in the election.
On the voting day, 5,426 permanent polling stations and 215 temporary polling stations in 125 constituencies operated in the country. The election was observed by 894 international observers (61 organizations, 59 countries) and 58,175 local observers.