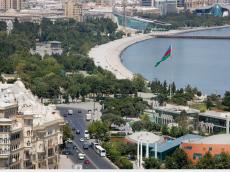 Trend:
Azerbaijani voters see no alternative to President Ilham Aliyev, consider his presidential activity satisfactory and want the country to be under his leadership in the subsequent period, reads an article published on the website of Russia's Trud social and political newspaper.
One can say with confidence that Azerbaijani citizens confirmed Ilham Aliyev's authority and re-elected him for a new term, the article said.
"Ilham Aliyev, out of eight registered presidential candidates, was and remains without rivals," the newspaper said. "A month before the vote, the results of a survey conducted by the ELS Center for Independent Studies showed that over 84 percent of respondents are ready to vote for the incumbent president."
Among the achievements in Azerbaijan's development after the presidential election of 2013, the respondents particularly note safe living conditions (81 percent), stable political situation (79 percent), efforts to resolve the Nagorno-Karabakh conflict (44 percent), the article said.
Moreover, Azerbaijani citizens link positive changes in the Nagorno-Karabakh issue to President Ilham Aliyev (88 percent), and not to the activity of representatives of the OSCE Minsk Group, according to the article.
"The short war that occurred two years ago, as a result of which a part of Azerbaijan's territory was liberated and control was restored over strategic heights on the contact line between Armenian and Azerbaijani troops, raised Ilham Aliyev's rating even higher," the article said.
The results of the survey showed that more than 91 percent of the respondents supported the domestic policy pursued by the Azerbaijani president, according to the Russian newspaper.
The article said that the Azerbaijani population didn't forget the successful holding of the First European Games, and then the Islamic Solidarity Games, which made it possible for the world to learn about Azerbaijan, its people and rich culture.