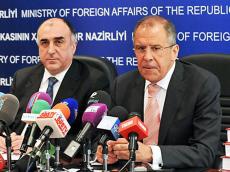 By Azernews
By Rashid Shirinov
The issue of determining the legal status of the Caspian Sea, which has remained essential over the past 27 years, is expected to be eventually resolved in the near future. This issue has once again been discussed during the recent telephone conversation of the Azerbaijani and Russian Foreign Ministers Elmar Mammadyarov and Sergey Lavrov.
The ministers discussed the progress of work on the documents of the 5th Caspian Summit, Russian Foreign Ministry informed on April 12.
The sides expressed a common opinion about the importance of the forthcoming five-sided summit in Kazakhstan, where it is planned to sign the Convention on the legal status of the Caspian Sea.
The status of the Caspian Sea remains a key topic of discussion at the summits of the littoral states. The issue became relevant after the collapse of the USSR, when the emergence of new subjects of international law - Azerbaijan, Kazakhstan and Turkmenistan - raised the issue of delimitation of the Caspian Sea between the five littoral countries.
The difficulties in determining the status of the Caspian Sea were linked, in particular, with the recognition of it as a lake or sea, the delineation of which is regulated by different provisions of international law.
The leaders of the five countries met for the first time in 2002 in Ashgabat. The second Caspian summit was held in Tehran in 2007, the third one in Baku in 2010, and the fourth summit – in Astrakhan in 2014.
Last month, Lavrov noted that at the meeting in Moscow this December, the foreign ministers of the Caspian states finished harmonizing all articles of the Convention.