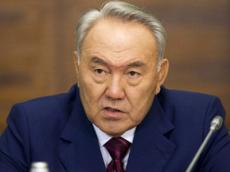 By  Trend
Kazakh President Nursultan Nazarbayev has congratulated Azerbaijani President Ilham Aliyev.
"Dear Ilham Heydarovich, on behalf of the people of Kazakhstan and on my own behalf, I congratulate you on the confident victory in the presidential election in Azerbaijan. Your victory in the election proves that the Azerbaijani people are providing high support to your policy aimed at increasing the well-being of the people and strengthening of the country's authority on international arena," Nazarbayev said in his congratulatory message.
"On this high state post, I wish you new success on the path of Azerbaijan's further prosperity and effective implementation of all the forthcoming plans. I want to note your great contribution to the strengthening of relations between Kazakhstan and Azerbaijan, based on unbreakable friendship and trust," the Kazakh president said.
Nazarbayev further voiced confidence that the strategic cooperation between the two countries will continue to develop dynamically for the bright future of Azerbaijani and Kazakh peoples.
"Dear Ilham Heydarovich, taking this opportunity, I wish you good health, inexhaustible energy, success in all initiatives, and friendly Azerbaijani people - peace and prosperity," the president of Kazakhstan said in his message.