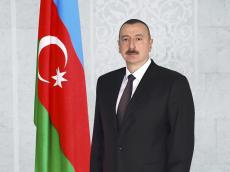 By  Trend
Secretary-General of the World Tourism Organization (UNWTO) Zurab Pololikashvili congratulated Azerbaijani President Ilham Aliyev.
"Upon my return to Madrid, I would like to thank you for the honor of meeting you during my visit to Baku on the occasion of the Azerbaijan International Travel and Tourism Fair that took place from 5-7 April, 2018," Pololikashvili said.
"I was very pleased to learn of your belief in tourism's capacity to foster economic growth and sustainable development in Azerbaijan and I thank you for your continued commitment and support to our sector," he added.
"Furthermore, I take this opportunity to congratulate you on the occasion of your re-election as president of the Republic of Azerbaijan," he said. "I send you my best wishes for continued health and happiness and for the well-being and prosperity of your country and its people."
"I believe that your new term in the office will give a new impetus to strengthen even further the close and friendly relations between the World Tourism Organization (UNWTO) and the Republic of Azerbaijan," Pololikashvili added.
"I very much look forward to continue strengthening the cooperation between Azerbaijan and UNWTO and to provide you with our fullest support," he said.