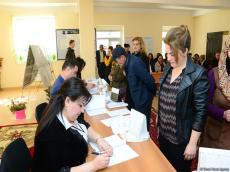 By  Trend
Presidential election in Azerbaijan was held in line with the country's legislation and international standards, Pere Macias, head of the observation mission of the Democracy and Freedom Foundation of Spain, said at a press conference in Baku April 12.
"We welcome the practice that Azerbaijan applied in organizing the presidential election," said Macias. "There were no restrictions at the entrance to the polling stations, all voters and observers could freely watch the process of open, transparent election."
He also stressed the absence of violations, such as the use of propaganda materials at polling stations, and highly appreciated the efforts of the Central Election Commission (CEC) regarding urging Azerbaijani citizens to participate in the presidential election.
"Election in Azerbaijan was conducted effectively and professionally, all citizens were given equal electoral opportunities," said Macias.
Azerbaijan held the presidential election on April 11. The incumbent head of state, Chairman of the New Azerbaijan Party Ilham Aliyev has garnered over 86 percent of votes in the election.