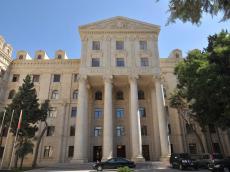 By  Trend
The draft convention on the status of the Caspian Sea fully meets Azerbaijan's national interests, Azerbaijani Deputy Foreign Minister Khalaf Khalafov said at a press conference in Baku on December 6.
"A meeting dedicated to the status of the Caspian Sea has been successfully held in Moscow," he said. "A framework convention was coordinated at the meeting."
"According to the draft convention, 15 miles in the Caspian Sea are outlined as a zone of territorial waters, 10 miles as a fishing zone, while the remaining part is intended for general use," Khalafov said.
"The bottom of the Caspian Sea is divided into sectors," he said. "The convention also includes the principles of safety of navigation and the preservation of military balance."
"The interstate procedures in connection with the draft convention will be carried out in the countries which agreed on the document," he said.
"Following the technical and normative registration of the convention and its approval by the presidents of the corresponding countries at the next meeting on the status of the Caspian Sea, it can be submitted for the presidents to sign it," Khalafov added.
He said the draft convention outlines the principles of cooperation between the Caspian countries.
"While the draft convention was being coordinated, Azerbaijan's position was based on the country's oil strategy, as well as the principles of good-neighborliness," he added. "According to the convention, the bottom of the Caspian Sea is completely divided into sectors among the countries which are near each other and opposite each other."
"In these sectors, the sides are entitled to use mineral resources and engage in other economic activity," Khalafov said. "The draft convention also includes the countries' rights for the use of commercial and military ships in the Caspian Sea, as well as the right to enter the World Ocean and other seas and the right to return back."
Khalafov added that the draft convention implies absolutely equal rights for all sides.