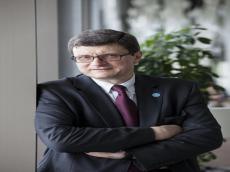 By  Trend
Azerbaijan has great potential to support the countries in need in achieving food security and eliminating hunger.
FAO Assistant Director-General and Regional Representative for Europe and Central Asia Vladimir Rakhmanin made the remark in in an exclusive interview to Trend.
Rakhmanin stressed that Azerbaijan has already become a partner country to FAO, and this partnership has great potential to expand to other countries in the region and elsewhere.
"Moreover, I truly believe that Azerbaijan can also transfer its experiences and know-how in agricultural production and governance of food security in the coming future to other countries," he said.
Hailing FAO's excellent partnership with Azerbaijan, he said that FAO Azerbaijan and Partnership Office closely collaborates with different public and private institutions.
"We are grateful for the support of Ms Leyla Aliyeva, FAO Goodwill Ambassador, in increasing public awareness on FAO's goals and policies, activities as well as her leadership in the conservation of genetic resources and rural development in Azerbaijan through International Dialogue for Environmental Action (IDEA)," he said, adding that the Agency is also discussing collaboration with IDEA on the advocacy of Sustainable Development Goals (SDGs 2030) in Azerbaijan.
Rakhmanin added that development strategies, successfully implemented by the Government of Azerbaijan since its independence led to substantial growth in incomes of population and ensured food security in the country in general.
"Yet there is a need for monitoring of food utilization and improving the micro nutrient sufficiency in the diets of people in order to address the stunting and anemia problems," he noted.