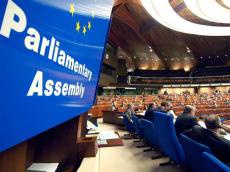 By  Trend
While adopting a number of resolutions on Azerbaijan, some MPs, who have fallen under someone's influence, voted against the country at the PACE autumn session, head of the Azerbaijani delegation to PACE, MP Samad Seyidov said.
Seyidov made the remarks at a meeting of the Azerbaijani parliament on October 20.
First of all, Seyidov stressed the Ukrainian MPs who voted against Azerbaijan.
"Unfortunately, these MPs voted against Azerbaijan, which means that they are also against Ukraine," he said. "Only the MPs from Ukrainian President Petro Poroshenko's party did not vote against Azerbaijan."
Speaker of the Azerbaijani Parliament Ogtay Asadov added that representatives of other Ukrainian parties voted for anti-Azerbaijani documents at the PACE session.
"Unfortunately, the representatives of the Ukrainian ruling party abstained from voting, which is food for thoughts," Seyidov said.