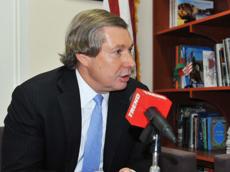 By  Trend
Settlement of the Armenia-Azerbaijan Nagorno-Karabakh conflict is impossible without respect to Azerbaijan's sovereignty, said James Warlick, the former US co-chair of the OSCE Minsk Group .
He made the remark during the briefing on "Averting all-out war in Nagorno-Karabakh: The Role of the U.S. and OSCE" organized by the U.S. Congress Helsinki Commission.
He pointed out that the risk of escalation is higher than ever.
"We need to redouble our efforts for the lasting peace," added Warlick.
The challenge is to find the way how the sides can take the last step forward to breach their remaining differences and deliver peace and stability, according to Warlick.
Talking about the benefits of achieving a peaceful settlement of the conflict, he noted that as a result of achieving peace, Armenia will immediately benefit from open borders, greater security and new opportunities to engage with its neighbors.
Azerbaijan will eliminate the impact of impediment to its growth as a player on the world stage, added the former co-chair.
The conflict between the two South Caucasus countries began in 1988 when Armenia made territorial claims against Azerbaijan. As a result of the ensuing war, in 1992 Armenian armed forces occupied 20 percent of Azerbaijan, including the Nagorno-Karabakh region and seven surrounding districts.
The 1994 ceasefire agreement was followed by peace negotiations. Armenia has not yet implemented four UN Security Council resolutions on withdrawal of its armed forces from the Nagorno-Karabakh and the surrounding districts.