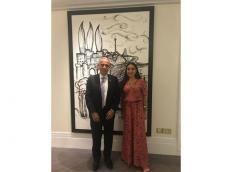 By  Trend
Vice-President of the Heydar Aliyev Foundation, founder and head of the IDEA Public Union, Leyla Aliyeva met with UN Resident Coordinator and UNDP Resident Representative in Azerbaijan, Ghulam Isaczai, the Foundation said on October 19.
During the meeting, the sides discussed new opportunities for cooperation between IDEA and the UN institutions, including the prospects of joint activities to implement the UN Sustainable Development Goals and solve environmental problems.
They also exchanged views on the project which is being implemented with the UNDP support to improve the management in coastal ecological systems in the specially protected territories of Azerbaijan.
The project is aimed at development and effective management of specially protected areas with the purpose of preservation of unique and rare samples of the biological diversity of Azerbaijan.
Thanks to the reconstruction and improvement work carried out in the Gizilaghaj State Nature Reserve complex within this project, the first specially protected marine area in the region will be created in Azerbaijan.
During the meeting, an agreement was reached to continue and further strengthen cooperation on environmental issues, issues of sustainable development and others.