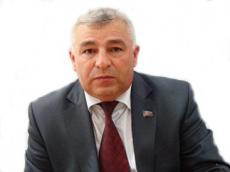 By  Trend
Negotiations with Armenian President Serzh Sargsyan and his team will not yield any results, Azerbaijani MP Elman Mammadov told Trend on October 18.
"Constructive talks should lead to the settlement of the Nagorno-Karabakh conflict and ensure Azerbaijan's territorial integrity. If this problem is solved, Sargsyan's power will be destroyed. So, it does not matter how much Sargsyan participates in the talks, after them he speaks differently," he said.
"Armenia does not want to take a fair position in the negotiations. Sargsyan is a war criminal. If a war criminal who should be in prison is a head of state, there is nothing else to expect from him. He acts in accordance with the laws of the criminal world, and not in line with international law," Mammadov added.
Azerbaijani President Ilham Aliyev and his Armenian counterpart Serzh Sargsyan held a summit in Geneva, Switzerland on Oct. 16.
The conflict between the two South Caucasus countries began in 1988 when Armenia made territorial claims against Azerbaijan. As a result of the ensuing war, in 1992 Armenian armed forces occupied 20 percent of Azerbaijan, including the Nagorno-Karabakh region and seven surrounding districts.
The 1994 ceasefire agreement was followed by peace negotiations. Armenia has not yet implemented four UN Security Council resolutions on withdrawal of its armed forces from the Nagorno-Karabakh and the surrounding districts.