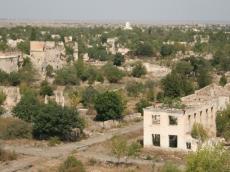 By Azernews
By Rashid Shirinov
The Commission on Security and Cooperation in Europe, also known as the Helsinki Commission, will host a briefing on the Nagorno-Karabakh settlement, organization's website reported on October 12.
The briefing titled "Averting all-out war in Nagorno Karabakh: The role of the U.S. and OSCE" will be held on October 18.
Two former U.S. Co-Chairs of the OSCE Minsk Group Carey Cavanaugh and James Warlick, as well as Magdalena Grono, Director of the International Crisis Group's Europe and Central Asia Program, will participate in the breefing.
The Nagorno-Karabakh conflict began in 1988 when Armenia made territorial claims against Azerbaijan. As a result of the ensuing war, in 1992 Armenian armed forces occupied 20 percent of Azerbaijan, including the Nagorno-Karabakh region and seven surrounding regions. More than 20,000 Azerbaijanis were killed and over 1 million were displaced as a result of the large-scale hostilities. The 1994 ceasefire agreement was followed by peace negotiations.
Until now, Armenia controls fifth part of Azerbaijan's territory and rejects implementing four UN Security Council resolutions on withdrawal of its armed forces from Nagorno-Karabakh and surrounding regions.
The Minsk Group, the activities of which have become known as the Minsk Process, spearheads the OSCE's efforts to find a peaceful solution to the Nagorno-Karabakh conflict. It is co-chaired by France, the Russian Federation, and the United States. Although the Group deals with the issue for over two decades, its activities have brought no breakthrough results so far.