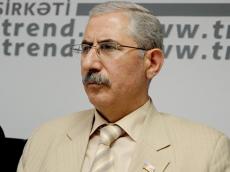 By Azernews
By Rashid Shirinov
Armenia has always tried to disrupt the negotiation process on the Nagorno-Karabakh conflict, Azerbaijani MP Bakhtiyar Sadigov said.
He was commenting on the recent meeting of Azerbaijani President Ilham Aliyev with the delegation of the Political and Security Committee of the Council of the European Union, where the head of state raised the issue of the Nagorno-Karabakh conflict and brought to the attention of the meeting participants the reasons of the lack of a solution to the conflict to this day.
"On the eve of the meetings of foreign ministers and presidents, Armenia committed various provocations and tried to derail the negotiation process," Sadikhov said in an interview with Trend. "Because of such actions of Armenians and because of their efforts to maintain the status quo, the negotiations on the settlement of the Armenian-Azerbaijani Nagorno-Karabakh conflict within the OSCE Minsk Group still have not produced practical results."
The Nagorno-Karabakh conflict began in 1988 when Armenia made territorial claims against Azerbaijan. As a result of the ensuing war, in 1992 Armenian armed forces occupied 20 percent of Azerbaijan, including the Nagorno-Karabakh region and seven surrounding regions. More than 20,000 Azerbaijanis were killed and over 1 million were displaced as a result of the large-scale hostilities. The 1994 ceasefire agreement was followed by peace negotiations.
Sadikhov noted that Armenia does not comply with the resolutions adopted by the UN Security Council in 1993, which demand for immediate and unconditional withdrawal of Armenian armed forces from the occupied territories.
"Therefore, the international community must exert pressure on Armenia to ensure the implementation of these resolutions, and the European Union must have its say in this issue as well," the MP said.
He further stressed that double standards of international organizations also play a role in this case.
"How is it that in other matters decisions and resolutions of international organizations are immediately executed, but the UN resolutions on the settlement of the Nagorno-Karabakh conflict have not been fulfilled for 24 years?" Sadikhov stressed.
The MP also added that the existence of the Nagorno-Karabakh conflict threatens regional security and stability.
"The OSCE Minsk Group must exert more pressure on the occupying regime of Armenia to ensure compliance with international law," Sadikhov said.
He further noted that the Azerbaijani army is always ready to liberate Azerbaijani lands from occupation: "Of course, the Azerbaijani army will have its say if necessary."