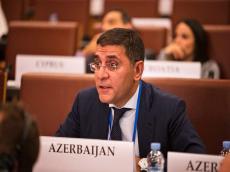 By Azernews
By Rashid Shirinov
Unresolved conflicts in the OSCE region pose a problem for the free access to water sources, Kamran Nabizade, Azerbaijani MP and an Azerbaijani parliamentary representative to the OSCE PA, said on October 5.
He participated in discussions on the topic "Environmental Security: Addressing Climate Change" within the OSCE Parliamentary Assembly's 16th Autumn Meeting ongoing in Andorra.
The MP urged the OSCE PA to take urgent measures to ensure all neighboring states' unhindered access to transboundary waters.
"Most of fresh water resources in Azerbaijan is formed in neighboring countries, namely in the transboundary rivers of Kura and Araz. Intense pollution and contamination of water with chemical, radioactive and other harmful substances within the territories of these countries create problems in supplying the population with drinking water," he said.
This summer, the National Monitoring Department on Environment under the Azerbaijani Ecology and Natural Resources Ministry conducted a monitoring in order to examine the pollution level of Kura and Araz rivers and their tributaries.
The monitoring revealed that the amount of biogenic substances in Kura and its tributaries is several times above the norm. The reason for this is the discharge of untreated domestic wastes and sewage from industrial facilities into water facilities in the territory of Armenia and Georgia.
Noting that Azerbaijan is actively cooperating with Georgia in the issue of use of the Kura river water resources, and the OSCE also provides support in this matter, Nabizade proposed to strengthen the monitoring and preventive work in this direction.
The MP also raised the issue of the organization of conservation measures and their relationship to funding issues. He wished the developed countries to provide the necessary financial support to their partners more actively, for timely and effective execution of their duties within the framework of the Paris Agreement on climate change.
Nabizade further expressed satisfaction that at each session the OSCE PA pays close attention to the problems of water supply and combating climate change. He proposed to strengthen cooperation of the PA with international conservation organizations, for example UNDP and UNEP, to coordinate measures to ensure environmental safety.
The MP also raised the issue of supplying drinking and technical water to population, noting that this issue is very acute in Azerbaijan and in many countries around the world.
Nabizade further briefed the participants in the discussion about Azerbaijan's achievements in environmental protection. He said that Azerbaijan adopted a legislative framework aimed at the protection and efficient use of natural resources, adding that the government carries out active environmental work.