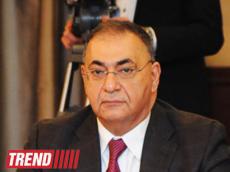 By Azernews
By Rashid Shirinov
Armenia, which occupied Azerbaijani territories, violated most of the commitments undertaken upon accession to the Council of Europe, Azerbaijani MP Asim Mollazade told Trend on October 5.
He was commenting on President Ilham Aliyev's statement about the Council of Europe made at a meeting with the delegation of the Political and Security Committee of the Council of the European Union.
"Depsite this, no discussions on these issues are held in this organization," Mollazade said.
Azerbaijan and Armenia for over two decades have been locked in a conflict, which emerged over Armenia's territorial claims to Azerbaijan. Since the 1990s war, Armenian armed forces have occupied over 20 percent of Azerbaijan's internationally recognized territory, including Nagorno-Karabakh and seven adjacent regions. Although the UN Security Council has adopted four resolutions on Armenian withdrawal from the occupied lands of Azerbaijan, they have not been enforced to this day.
Asim Mollazade also noted that a concrete information struggle against Azerbaijan is being conducted in the Council of Europe.
"I think that the Council of Europe should seriously change its policy on these issues," the MP said. "First of all, we are talking about the work of the relevant executive body and the general secretariat of this organization."
He further opined that the Azerbaijani delegation represented in the Council of Europe will also express its position in this regard, and Azerbaijan's interests will be discussed at the session of the organization's Parliamentary Assembly.
Since becoming a member state of the Council of Europe in January 2001, Azerbaijan has been actively and vigorously cooperating with all working institutions of the organization.