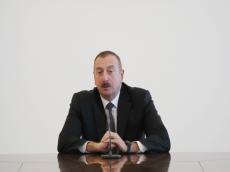 "The existence of the Armenia-Azerbaijan Nagorno-Karabakh conflict is a continuous threat to the regional security and stability," said Azerbaijani President Ilham Aliyev at a meeting with a delegation of the Political and Security Committee of the Council of the European Union, Azertac reported.
"I think the key area of activity of the Minsk Group in the next month, perhaps you already know their plan to visit the region, should be to exert even more pressure on the invader regime of Armenia to comply with international law. The lack of pressure on the aggressor at the international level is one of the reasons for the conflict to remain unresolved," said the Azerbaijani President.
The head of state noted that if sanctions were imposed on Armenia, the country that violated the norms of international law and humanitarian acts, perhaps the conflict would have been resolved long ago. "This kind of soft policy by the international community towards Armenia creates an impression that they can continue to stay illegally on our territories, and that is one of the reasons. But I think they should realize that this will not be possible. I have no doubt that Azerbaijan will restore its territorial integrity. The fact is that we want a peaceful solution of the conflict," President Ilham Aliyev said.