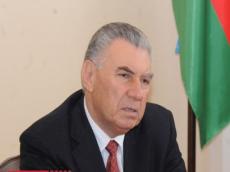 By Azernews
By Rashid Shirinov
Resolutions on the Armenia-Azerbaijan Nagorno-Karabakh conflict adopted by the UN Security Council remain unfulfilled, and, unfortunately, the world community turns a blind eye to this, Azerbaijani Deputy Prime Minister Ali Hasanov said on October 4.
Hasanov, who is also the Chairman of the State Committee for Refugees and IDPs, made the remarks at a meeting with Director-General of UN Office at Geneva Michael Moller.
Deputy prime minister stressed that the absence of serious measures and the position of the international community, observing from the outside, also contribute to the growth of conflict hotbeds in various regions of the world.
As a result of the Nagorno-Karabakh war in early 1990s, Armenian armed forces occupied 20 percent of Azerbaijan, including the country's Nagorno-Karabakh region and seven surrounding regions. More than 20,000 Azerbaijanis were killed and over 1 million were displaced as a result of the large-scale hostilities.
Today Armenia still controls the Azerbaijani lands and rejects implementing four UN Security Council resolutions on withdrawal of its armed forces from Nagorno-Karabakh and adjacent regions. This injustice causes fair discontent of Azerbaijan. The UN Security Council and other relevant international organizations must put pressure on Armenia in order to make the occupier country fulfill the four resolutions.
At the meeting, Hasanov noted that this year marks the 25th anniversary of Azerbaijan's membership in the UN, and said that the relations between Azerbaijan and the international organization are developing at a high level.
The deputy prime minister also noted that Azerbaijan supports close relations with the Geneva Office organizations, in particular, with the UN High Commissioner for Refugees, which began working in Azerbaijan in 1992, and with the International Organization for Migration.
Hasanov further touched upon the need for structural changes and reforms in the UN after the election of its new Secretary General, and noted that one of the main directions is ensuring the implementation of documents and resolutions that the UN adopts.
Michael Moller, in turn, said that Azerbaijan is one of the most active members of the UN, and that the country's rapid development and decisions made on social and economic issues are an example. He added that Azerbaijan's experience should be encouraged within the UN.