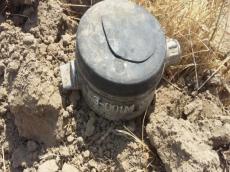 By Azernews
By Rashid Shirinov
Armenian anti-personnel mine was discovered in Agdam region of Azerbaijan.
Azerbaijan's National Agency for Mine Action (ANAMA) told APA that the mine was discovered in the village of Afatli in Agdam region on September 4.
A special operational group of ANAMA soon arrived at the scene. Specialists inspected pasture near the Gargar river and discovered one anti-personnel mine of Armenian origin. As it was impossible to defuse the mine, ANAMA decided to disarm it on the spot through detonation.
The group additionally viewed 8,000 square meters of territory, but no other dangerous items were found.
ANAMA was established in 1998 for planning and coordination, management and monitoring of mine action related activities all over the country. The problem of unexploded ordnance in Azerbaijan can be divided into the areas that are still under the occupation of Armenian forces and other areas of the country. Most of the unexploded ordinances are the result of Armenian aggression.
Since the creation of ANAMA, its staff cleared more than 40,000 hectares of Azerbaijan's territory, discovering and defusing over 760,000 mines and unexploded ordnance.