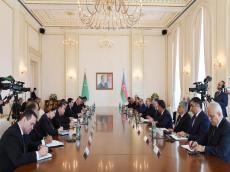 By  Trend
Ample opportunities are available for the development of cooperation in the economic, trade and humanitarian spheres between Azerbaijan and Turkmenistan, Turkmen President Gurbanguly Berdimuhamedov said.
Berdimuhamedov made the remarks at a meeting with Azerbaijani President Ilham Aliyev Aug. 8.
"First, I would like to express my deep gratitude to you," President Berdimuhamedov told President Aliyev. "You have invited me for an official visit to Azerbaijan. On my own behalf and on behalf of my delegation, I express my deep gratitude to you."
"I express special gratitude for the sincere reception," he added. "As you noted, we are neighboring countries. I once again express my gratitude for your hospitality. Excellent conditions have been created here for joint fruitful work."
"I would like to note that the main goal of this official visit is to further strengthen the fraternal relations between our peoples and countries," the president said. "Currently ample opportunities are available for development of ties and cooperation in the economic, trade and humanitarian spheres."
"As for the political sphere, I would like to say that our countries stand for preserving international and regional security," President Berdimuhamedov said. "We would like the stable development of our countries to continue. This is a factor that positively influences the political processes taking place in Central Asia and the Caspian region."
"In the current conditions, our countries must strengthen cooperation within the authoritative international organizations, namely, UN, OSCE, OIC, CIS, ECO and other organizations," the Turkmen president said.