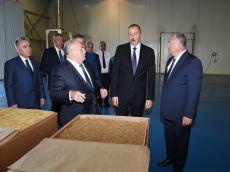 President of Azerbaijan Ilham Aliyev  arrived in Zagatala region on a visit on August 3, Azertac reported.
The head of state laid flowers at a statue of the national leader in the Heydar Aliyev Park in the city of Zagatala.
Head of Zagatala District Executive Authority Mubariz Ahmadzade informed President Ilham Aliyev about the landscaping work carried out in the Heydar Aliyev Park.
President  Aliyev familiarized himself with the activity of a tobacco processing plant of Azertutun LLC in Zagatala. President of the National Confederation of Entrepreneurs (Employers) Organizations of the Republic of Azerbaijan Mammad Musayev and chairman of the Board of Directors of Azertutun LLC Fazil Rustamov informed the head of state about the plant.
The President was told that the annual processing capacity of the plant in one shift is 3300-3600 tons. Azertutun LLC was founded in 2007. This plant of the company was commissioned in 2010. The plant is supplied with modern equipment from the USA, Italy and Bulgaria. In 2016, the plant processed and sold 1039 tons of "Virginia" sorts of dry tobacco. The plant is expected to process 2300 tons of tobacco in 2017.
President Aliyev also familiarized himself with a rose oil plant of AzRose LLC, which is under construction, in Zagatala.
The head of state was informed about the facility. The plant occupies a total area of 3 hectares. A 5,000 cubic meter artificial lake was created here for irrigation purposes. Agricultural equipment was purchased, and experienced agronomists from Turkey were invited. Three artesian wells were drilled, gas and power lines were built, modern lighting system was installed and green areas were laid out here.
Rose oil production equipment was imported from Turkey. The plant will create 31 permanent and nearly 600 seasonal jobs. Azerbaijan will initially produce 125 liters of rose oil, which accounts for 4 percent of global production. The company`s products will be exported to the world market in 2018.
President  Aliyev met with representatives of local public and the plant`s staff.
On behalf of representatives of local public, Ilhame Mehdiyeva and Khazangul Zeynalova thanked the head of state for care and attention.
President Ilham Aliyev then viewed rose plantations.
On the same day, President  Aliyev attended the opening of 110/35/10 KV Bahmatli electrical substation in Zagatala district.
Chairman of Azerishig Open Joint Stock Company Baba Rzayev informed the head of state of the technical indicators of the substation.
Extensive landscaping work was carried out around the substation, green areas were created here.
Bahmatli substation will ensure high quality supply of electricity to about 9,000 consumers of Bahramli, Suvagil, Dagli, Mosul, Yengiyan, Lahij, Kurdamir, Muganli, Gandakh, Kapanakchi, Chudulubina and Aliabad settlements.
President Ilham Aliyev then launched the substation.