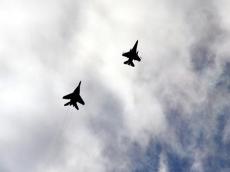 By Azernews
By Rashid Shirinov
The Sea Cup – 2017 international contest, bringing together the Navies of Azerbaijan, Russia, Iran and Kazakhstan, continues in the coastal waters of Baku.
Today, the crews of the ships participating in the contest will demonstrate professional skills in destroying air targets in the region designated in the Caspian Sea.
The Azerbaijani Defense Ministry reported that four MiG-29 fighter aircrafts of the Azerbaijan Air Force will be involved to provide this stage of the contest.
Meanwhile, the artillery firings of warships on the sea target, which had to be held yesterday within the Sea Cup – 2017, were postponed to the reserve day.
On August 2, the members of the Judicial Commission and the crews of the warships, which arrived in the designated area of the Caspian Sea, found that the raid equipment prepared for the contest was damaged due to unfavorable hydrometeorological conditions. In this regard, a collegial decision was taken to conduct a navigation training instead of conducting a combat exercise.
In the near future, the Azerbaijan Naval Forces combat support vessel detachment will bring the raid equipment into accordance with the approved live-firing norms, the Defense Ministry noted.
The Sea Cup contest involves ship teams of the Navies of Azerbaijan, Russia, Iran and Kazakhstan. Moreover, representatives of the Armed Forces of Turkey, Saudi Arabia and Bahrain will observe the competition.
As many as 300 personnel is involved in the Sea Cup – 2017. The competition includes three stages – artillery firing, ship damage control, ship crew skills and rescue contest.
The Sea Cup is held within the International Army Games – 2017, which started in Russia on July 29. The Games, which are attended by more than 150 teams from 28 countries, will be held in Russia, Azerbaijan, Belarus, Kazakhstan and China until August 12.