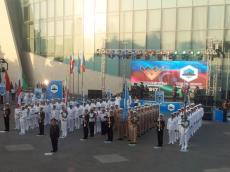 By Azernews
By Rashid Shirinov
A solemn opening ceremony of the Sea Cup-2017 international contest was held at Seaside National Park in Baku as part of the International Army Games-2017.
Servicemen, accredited representatives of foreign countries in Azerbaijan, and local residents participated in the event, the Azerbaijani Defense Ministry reported on August 1.
Chairman of the Organizing Committee of Sea Cup-2017, deputy Chief of the General Staff of the Azerbaijani Armed Forces – chairman of Combat Readiness and Military Education Central Department Nizam Osmanov said that the contest aims to strengthen confidence, develop cooperation, foster friendship and competitiveness, and improve combat capabilities and psychological readiness of the military personnel.
Later, Defense Minister Zakir Hasanov read out the greetings message of President of Azerbaijan, Supreme Commander-in-Chief of the Armed Forces Ilham Aliyev to the participants of Sea Cup - 2017. The minister then declared the contest open.
The Sea Cup – 2017 involves ship teams of the Navies of Azerbaijan, Russia, Iran and Kazakhstan. Moreover, representatives of the Armed Forces of Turkey, Saudi Arabia and Bahrain will observe the competition.
As many as 300 personnel is involved in Sea Cup – 2017. The competition will include three stages – artillery firing, ship damage control, ship crew skills and rescue contest.
Sea Cup – 2017 is held within the International Army Games – 2017, which started in Russia on July 29. The Games, which are attended by more than 150 teams from 28 countries, will be held in Russia, Azerbaijan, Belarus, Kazakhstan and China until August 12.