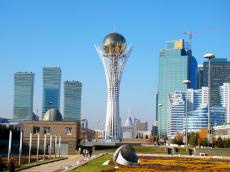 By  Trend
The conflict over Nagorno-Karabakh is not connected with the Collective Security Treaty Organization (CSTO) and must be resolved in line with international law through negotiations, said Timur Urazaev, Kazakhstan's extraordinary and plenipotentiary ambassador to Armenia, in his interview with Sputnik Armenia.
"We don't link the Nagorno-Karabakh issue with the Organization in any way, because this is a regional conflict that must be resolved in line with international law," noted the ambassador.
For over two decades, Azerbaijan and Armenia have been locked in conflict, which emerged over Armenia's territorial claims against its South Caucasus neighbor. Armenian armed forces have occupied over 20 percent of Azerbaijan's internationally recognized territory, including Nagorno-Karabakh and seven adjacent regions.
Despite the official ceasefire, each year the conflict becomes a cause of the deaths of dozens of civilians and military. The latest outbreak of violence on the contact proved that it is impossible to resolve the conflict by keeping a status quo.
He said that Kazakhstan supports the conflict's settlement through negotiations. "I can only call on the parties to resolve the issue peacefully," added Urazaev.