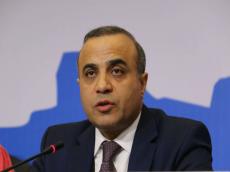 By Azernews
By Rashid Shirinov
The activity of the OSCE Minsk Group, established to broker a peace to the Armenia-Azerbaijan Nagorno-Karabakh conflict, was criticized at the session of the OSCE Parliamentary Assembly in Minsk
Azay Guliyev, Vice-President of the OSCE PA and member of Azerbaijani delegation to the organization, raveled this while talking to reporters on July 12.
Guliyev said that the unsuccessful activity of the OSCE Minsk Group was stressed at the meeting.
The Minsk Group, co-chaired by France, the Russian Federation, and the United States, spearheads the OSCE's efforts to find a peaceful solution to the Nagorno-Karabakh conflict. Although the Group deals with the issue for over two decades, its activities have brought no breakthrough results so far.
Guliyev said that the speakers also voiced necessity of bringing Armenia to the negotiating table in the shortest possible time to achieve a specific result in resolving the Nagorno-Karabakh conflict.
"Calls were also voiced in connection with the return of refugees and internally displaced persons to their homes, and the issue of settlement of the Nagorno-Karabakh conflict was raised at the session," Guliyev said.
For more than two decades, Armenia and Azerbaijan are in a state of war following Yerevan's aggression, ethnic cleansing policy and illegal territorial claims against Azerbaijan. More than 20,000 Azerbaijanis were killed and over 1 million were displaced as a result of the large-scale hostilities. Today, Armenia keeps under control over 20 percent of Azerbaijan's internationally recognized territory, including Nagorno-Karabakh and seven adjacent regions.
Armenia ignores all attempts of Azerbaijan and mediators to achieve progress in the settlement of the conflict, thus trying to preserve the inadmissible status quo in Nagorno-Karabakh.