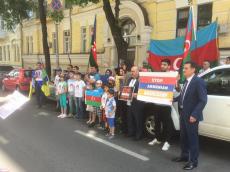 By Azernews
By Rashid Shirinov
A week has passed since the abominable murder of an Azerbaijani toddler Zahra and her grandmother, who were living peacefully in their village Alkhanli in Azerbaijan's Fuzuli region. Both were killed and another woman was wounded on July 4 by Armenian armed forces during another provocation on the frontline.  
The murder of civilians once again proved that Armenia doesn't stop on constant violations of ceasefire with Azerbaijan – the aggressor also targets Azerbaijani human settlements near the frontline.
To focus the attention of the international community on this heinous murder, Azerbaijanis from all over the world started to appeal to numerous international organizations. They demanded to properly respond to the Armenian provocation and not to remain indifferent to such injustice.
Although the week has passed from the killing of little Zahra and her grandmother, Azerbaijanis continue to address to the world and hold protests.
On July 10, the All-Ukrainian Azerbaijani Youth Organization held a protest action in front of the OSCE office and the Armenian Embassy in Kiev.
Demonstrators were carrying posters and banners reflecting the atrocities of the Armenian army. The protesters with banners of murdered Zahra chanted in front of Armenian Embassy slogans condemning the aggressive policy of Armenia.
They demanded the liberation of the occupied Azerbaijani lands and a decisive action by the international community to end the Armenian aggression.
Meanwhile, the Swedish Azerbaijanis Congress appealed to the Riksdag (Parliament) of Sweden, the Prime Minister, Ministry of Foreign Affairs and the Svenska PEN union of Swedish journalists in connection with the tragic killing of two Azerbaijani civilians.
The authors of the appeal urged the legislative and executive authorities of Sweden to objectively assess the incident and to express their position on this issue.
Moreover, the Swedish Azerbaijanis Congress sent a letter to the Armenian Embassy.
In the meantime, members of the Germany-Azerbaijan Friendship Society in Bonn sent an appeal to the Bundestag. Its authors noted that what happened in Alkhanli is a clear example of the aggressive policy of Armenia, which is pursued under the leadership of Serzh Sargsyan.
The appeal also provided information about the Armenian-Azerbaijani Nagorno-Karabakh conflict, the aggression policy of Armenia and its provocations on the frontline in April 2016.
Since signing the ceasefire in 1994, Armenia has been constantly violating it, thus killing Azerbaijani soldiers and civilians from time to time. However, the international community remained indifferent to all these violations of international law.
Today Armenia remains unpunished and therefore continues these deadly provocations, thus ruining the stability in the region and hampering the resolution of the prolonged Nagorno-Karabakh conflict.