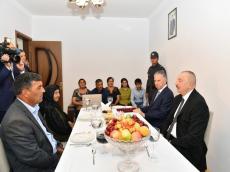 Azerbaijan's President Ilham Aliyev viewed restoration work and met with local residents in Jojug Marjanli village, Jabrayil on June 14.
Jojug Marjanli was fully liberated from the Armenian occupation in April 2016, when Azerbaijani Armed Forces prevented an Armenian provocation on the contact line. The village, which was ruined by the enemy in the past, has been rebuilt in a short time.
The head of state started his visit by opening a new village road in Jojug Marjanli. The President was informed that the road is 9km in length, and 12m in width. A 24m-long bridge over the road was reconstructed, Azertac reported.
President Aliyev then visited local resident Ogtay Haziyev`s house. The Haziyevs have lived in the village since 1994, and never left it despite security concerns. President Aliyev spoke with Ogtay Haziyev`s family members.
The first stage of the reconstruction saw the building of a total of 50 private houses and necessary infrastructure in the 10 hectare area. IDPs from Jojug Marjanli with temporary residence in Baku will be resettled here. Twenty houses have two rooms, 25 have three rooms and five have four rooms. 
President Aliyev then viewed a new 96-seat school. Deputy Prime Minister, Chairman of the State Committee for Refugee and IDP Affairs Ali Hasanov and Head of Jabrayil District Executive Authority Kamal Hasanov informed the head of state that the reconstruction work saw the installation of the lighting system on the village streets, the building of water, gas and telephone lines, the digging of a sub-artesian well and the construction of a 100 cm water reservoir. 
President Aliyev met with a group of military schools cadets here.
A mosque reminiscent of Shusha mosque was built in Jojug Marjanli under an order of President Ilham Aliyev. The building of this mosque is a message to Armenia and the international community that Azerbaijan is part of the Islamic world and is committed to its history. The head of state viewed the mosque. 
President Aliyev then toured the village.
Jojug Marjanli is the 96th residential area built for refuges and IDPs in Azerbaijan, and the first settlement to welcome IDPs back to their homeland.