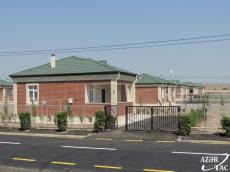 By Azernews
By Rashid Shirinov
Jojug Marjanli village, fully liberated from the Armenian occupation last year, seems to be ready to welcome native inhabitants.
The village, that was ruined by the enemy in the past, has been rebuilt in a short time and is prepared to give a start to its second life.
Jojug Marjanli was fully liberated from the Armenian occupation in April 2016, when Azerbaijani Armed Forces prevented an Armenian provocation on the contact line. To protect civilian population, the Azerbaijani army launched counter attacks and as a result, the Azerbaijani troops retook hills around the village of Talish, as well as Seysulan settlement, and also took over Leletepe hill located in the direction of Fizuli region.
In late January 2017, President Ilham Aliyev ordered to restore Jojug Marjanli. Under the order, 4 million manats was allocated for the construction of 50 private houses, a school building and relevant infrastructure at the first stage.
Now the construction work in Jojug Marjanli is completed. Twenty of the 50 houses are two-room, 25 are three room and five are four-room houses. The village is provided with water, gas, phone lines, reservoir of 100 cubic meters; lighting system is set up in the streets.
Inhabitants of Jojug Marjanli, who had to leave the village in early 1990s, are now happy to come back to their native land.
"24 years ago I left my native village. Finally, the end of this separation has come," the village resident Gulizar Safirkhanova said to Azertag reporter. "Although the settlement has not yet been put into operation, we couldn't wait and came from here Baku."
Reporters also visited Khaziyevs – the only family that lived in Jojug Marjanli during these two decades.
"More than 23 years we alone have lived here. I have always dreamed that our residents, relatives and neighbors would come back. Thank God, my dream has come true," says 80-year-old Minara.
Jojug Marjanli now has a school for 96 pupils, which is equipped with necessary equipment, heating system and Internet. Moreover, volleyball and basketball courts were constructed in the yard and landscaping work was carried out.
Eighth grade student Azad Mirzaliyev, who lives in the neighboring Gazakhlar village of Fizuli region, says that every day he comes to Jojug Marjanli where his father's house is located and looks forward to the day when he will go to the newly built school.
In addition, a mosque identical to the Shusha mosque was built in Jojug Marjanli. The construction foreman Ismayil Agabayov told reporters that every builder of the mosque worked with great enthusiasm and the construction was completed on time.
"Our biggest dream is the liberation of all our lands and restoration of mosques in Agdam, Shusha and our other cities and villages," Agabayov said.
Liberation of Leletepe height last April allowed to sow hundreds of hectares near the frontline. Now Jojug Marjanli residents can do farming in a safe environment.
"Previously, these areas were very dangerous, but after the liberation of Leletepe height we can safely work in farming," says villager Arif Khaziev.
The Azerbaijanis have long awaited the return to their homes in native lands occupied by Armenians, and now we can confidently say that the Great Return to Nagorno-Karabakh has begun with Jojug Marjanli.