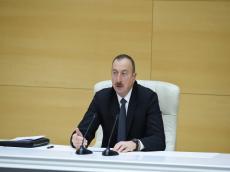 By Azernews
By Amina Nazarli
Azerbaijani President Ilham Aliyev chaired a republican conference of non-oil exporters in Yevlakh's region of the country on April 17, where the main access was made on agricultural sphere.
The meeting covered very important issues and revealed the results and successes of the country's economy during the past year. 
Addressing the event President Aliyev spoke of the most profitable products such as nuts and tomatoes that bring a lot of currency to the country. The country earned $105 million on nut and $94 million on tomato export, said the head of state.
"Persimmon comes third with $68 million and sugar ranks fourth with a 62-million profit," he said.

Talking about cotton growing, President Aliyev said that the product brought $24 million to Azerbaijan last year and this is only the first year.  

"Last year the country earned $350 million on these five products. By increasing production of these products twice we can get big money," he said.
Regarding the almond orchards, President Aliyev said that the country starts to create almond orchards this year, offering entrepreneurs to focus on this sphere.
The head of state said 2017 will be very successful for the country taking into account indicators of the first quarter of the year.
"The indicators of this year are truly pleasant. I have already said this, and I would like to repeat that the results of the first three months of this year inspire us very much. This once again demonstrated that the decisions we made and reforms we started in 2016 have produced wonderful results in a short period of time," President Aliyev said.
The President further added that the non-oil sector of economy grew 2.4 percent in the first quarter of 2017, calling this "a very good indicator".
"Our non-oil industry rose 2 percent, agriculture increased 3.5 percent. More than 80,000 jobs were created in three months. Our trade turnover increased 15 percent, exports saw a nearly 50 percent growth, and imports fell 17 percent. The export of agricultural products increased 44 percent," he added.
President Aliyev mentioned that Azerbaijan made a profit of $1 billion in the first quarter of the year. "Our foreign exchange reserves are growing. This positive dynamics allows us to say that we will achieve even greater outcomes this year," the President added.
"Today we can confidently say that Azerbaijan managed to have diversified its economic potential. The non-oil sector today accounts for around 65 percent of our economy," said President Aliyev. "But we cannot say this about our exports. The largest part of our exports falls on oil and gas, which is obviously natural for the current period, because we are increasing our oil and gas potential. But one of the outstanding tasks for us is to ensure diversification of our exports. We need to achieve this in exports, just like we have done it with the Gross Domestic Product."
The head of state highlighted results of regional development programs, saying thousands of new enterprises have been established across the country.
The President said that 1.7 million jobs have been created, including 1.3 million permanent ones, in Azerbaijan.
"The decisions, laws and decrees I signed last year created good opportunities to diversify our economy even more. In particular, the measures taken to promote export of non-oil products yield good results", the President said.
'We began to apply a promotion system. I have told about this in the past years, too. Because the system of promotion has justified itself in some other countries and led to growth of export. We have studied appropriate advanced experience in the world and on this basis we applied promotion of investing and exporting systems in Azerbaijan. Both systems are successfully functioning. The entrepreneurs may even not believe that the state would render them such assistance. Sometimes they were even surprised. Now, they see if their products reach the world markets, the state returns some percent of its price to themselves. That is, this is a great initiative for stimulation. The entrepreneur gains extra profit, on one hand, and this has moral sense, on the other. Because, people have strong confidence for them, and they work confidently and involve high amount investments for the country," the President underlined.
President Aliyev further stressed that development of entrepreneurship is one of the priority issues for the state.
"The government is providing both political and great methodological support for the development of entrepreneurship. Aran Regional Development Center for entrepreneurs in Yevlakh region was built and commissioned by the Azerbaijani government. And this is another sign of support for the development of entrepreneurship," President Aliyev said.
"We are holding meetings with entrepreneurs on a regular basis several times a year. We have held hundreds of meetings with entrepreneurs over the past 13-14 years. I have personally attended the opening of a number of enterprises in the field of entrepreneurial activity. Entrepreneurs are well aware that a great support, as well as political support is given to their activities by the state," the President said.
President Aliyev noted that low-interest loans totaling more than 2 billion manats ($1.19 billion) have been granted to entrepreneurs by the state through the National Fund on Entrepreneurship Support in recent years.
The President went on to say that practical measures have been taken to promote 'Made in Azerbaijan' brand worldwide.
The brand is already gaining world fame, said the President. The head of state noted several export missions have been dispatched to foreign countries, adding that this has been of great benefit. "We decided to open Azerbaijani trading houses in several countries, and we are already close to doing it. All steps taken by the state create additional opportunities for entrepreneurs."
The head of state said: "We need to try to completely provide ourselves with consumer products in the next 3-4 years. This will create additional opportunities for export." "We should constantly increase production in order to fully meet the domestic demand and present competitive export products.
President Aliyev also stressed the importance of food security, saying Azerbaijan is close to completely providing its food security.
At the event, the President also hailed the development of tourism in the country.
"The number of tourists increased by 11 percent last year, while it rose by 25 percent in the three months of this year. It is obvious now," said President Aliyev in a closing speech.
"The number of tourists is increasing dramatically both in Baku and regions of the country. And there are, of course, reasons for this. This has not happened spontaneously. The work done in recent years has led to this situation. First of all, stability, tranquility, social and political order reigning in Azerbaijan, of course, make the country more attractive to tourists. Particularly, under current circumstances when there is tension in various parts of the world, threats, conflicts, social discontent is growing, mass protests are widespread. None of these problems exists in Azerbaijan," he noted.
"Azerbaijan enjoys unity of the people and the government. Our policy is supported and approved by the people. And this is the key factor of stability in Azerbaijan," added President Aliyev.
Other speakers at the event included Azerbaijani Economy Minister Shahin Mustafayev, chairman of Wine Exporters' and Producers' Association Elchin Madatov, chairman of Hazelnut Producers and Exporters Association Ismayil Orujov, CEO of Azersun Holding Sava? Uzan, Executive Director of Az-Granata LTD Rovshan Farhadov, CEO of Gok-NUR Baku LLC Farid Farhadzade, founder of D-Fruits Farming Isamaddin Damirov and Business Incubator participant Ariz Mikayilov.